Saturday, November 22, 2008
Bianca Jagger's YSL suit from her 1971 wedding to Mick Jagger, gorgeous!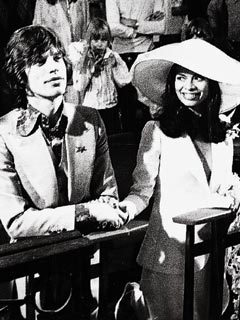 Posted by

Z
at 3:29 PM
No comments:
Links to this post

Monday, November 17, 2008
I'd want it in white, with scalloped lace at the neckline, sleeves and at the bottom, but otherwise it's near perfect, and so "me", I have so many tops and dresses in this shape!  I also love her quote "I'm not interested in anything I can't throw on the floor" - I agree completely!
Here is a shot of it from the runway.  The poor model's got a bit of what I'm going to call "hat in the face" but it's an otherwise great shot of the dress and it looks so comfortable, which is a top priority!
Posted by

Z
at 2:12 PM
5 comments:
Links to this post

Sunday, November 16, 2008
Found another great company that also does Moroccan themed tents, furniture and accessories, this one just down the street from our our house - 
Mosaik Events
. Here are some shots from their website that I'm loving:
Andy loves this shot with the lanterns along the walkway:
More great use of lanterns:
Love this party set up with the pool right there, so lush and green and romantic:
Another shot from the same event.  I love the candles lining the pool.  Never thought I'd say this but while I love this look below from the same party I'm wondering if it might be just a
tad
too much color with the draped fabric overhead?  
I'm really into the idea of an outdoor wedding but these tent interiors are stunning:
Some of their tents bare that are available to rent.  Maybe not a bad idea to get one (or two) if they're not too expensive:
I thought a scattering of jewel colored cushions (like the ones at Icebergs restaurant in Sydney) would be lovely and wasn't sure I would be able to find ones that were similar to rent, but these might do:
Posted by

Z
at 4:17 PM
1 comment:
Links to this post